Mr. Ashok Vastani – Dass Jewellers
---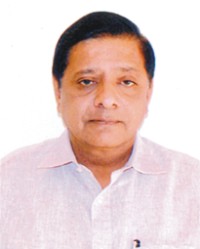 Tete a tete with Mr. Ashok Vastani, Co-owner of the most prominent and probably the oldest Jewellery Showroom of Nagpur, DASS JEWELLERS
Q. Tell us something about yourself and how you got into this Jewellery Business?
A. The sapling of Dass Jewelers was planted by my father Late Shri B G Vastani in 1947. Born as his youngest son, I got an opportunity to work with him, while studying at school and college. It helped me a lot to absorb the strategies of business, and I owe all credit to him. He is my Mentor and Guru.
Q. Dass Jewellers I suppose is one of the oldest Jewellery Shop in this region tell us about its background?
A. As I have already mentioned, it was the outcome of my father's dream that, we opened our first showroom at Sitabuldi Area in a small premises of 150 sq.ft . It was due his perseverance that, we were able to open another branch in Shankar Nagar. This showroom has wide range of exclusive collection showcasing the wide range of finest jewelleries to cater the varied tastes of the people.
Q. You have Recently Opened a New Showroom, Tell us something about it ?
A. We have added one more feather to our cap, by opening a new showroom at Shreeram towers, sadar, on 23rd Nov. 2013. Nagpur is developing fast and already achieved the status of Metro. Keeping our customers demand from the central part of Nagpur in mind, we decided to open this new showroom where we are now having 2000 sq.ft space, and more importantly ample space for parking.
Q. What sets Dass Jewellers Showroom Apart from other Jewellery Showroom in the city?
A. Dass jewelers have never compromised on the 'Business Ethics & Quality '. We are able to serve the customers with variety of latest designs, at competitive price without compromising the quality.
Q. What is your philosophy in business?
A. We believe in two main philosophies. 'Honesty is the Best policy' and 'Ethics & Morals will result in customer delight'. This is helping us to go a long way in our profession.
Q. What is your success mantra?
Or. what is the secret of your business to have established such a reputed name in Nagpur market?
A. Deliver customer's dream' or to simplify, I would say to know your customers fully and then fulfill their demand. It will help not only to develop the business, but also results in customer loyalty.
Q. What you do to convince your customers to trust you and revisit your Showroom again and again?
A. The elegant innovative designs which we present to our customers, the quality and the reliability of the items which we sell at the competitive prices are the major reasons, which bring back the customers to us again and again.
Q. What is your work schedule? Or your work style?
A. I always believed in the old slogan "AARAM HARAM HAI "and I am following it very religiously, since childhood. That's why; I am able to work continuously passionately till date.
Interview of : Mr. Ashok Vastani
Interview By : Biz Infoline Nagpur